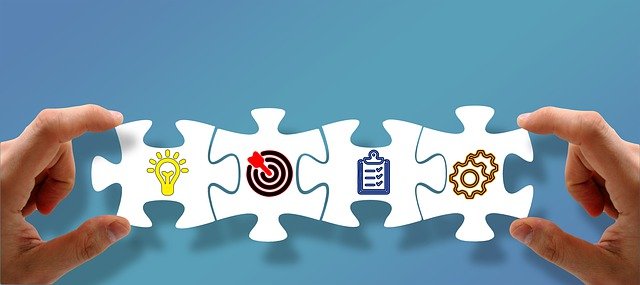 How should you approach the 12 Point Plan?
I definitely wouldn't suggest trying to implement them all at once. This would set you up for failure. Much better to try and implement a small number of Points at a time. Then when you've managed to make them a habit, add more. You may be doing some of them already, which is great. An ambitious starting place could be to try adding 1-3 new Points to your life per week. That may be way too much for you though if you already have a busy life. It may be better to just add 1 new practise every few weeks. It all depends on you as an individual and how you'd like to approach it. There's no right or wrong. The best way to do it, in my opinion, is with a coach who can guide and support you through the changes.
I would suggest you start with the top point from each section and work your way down. Although they are all important and effective, I've arranged them in most likely priority. It's also important to work on all sections and achieve balance. So, I'd rather you had 2 of 4 Points in all 3 sections, rather than all 4 Points in 2 sections and none in the 3rd section, even though it would be fewer overall points. Here are some possible approaches:
The 4 Week Fast Track
This would suit someone with either:
Plenty of time, very high motivation and few current challenges, or
A very strong reason to be taking extreme actions with their health, like a current disease
Most people are likely to find this approach too fast.
Week 1: Put into action the first point from each realm (Conditioning, Water and Sleep)
Week 2: Add the second point from each realm (Strength, Vegetables and Journal)
Week 3: Add the third point from each realm (Energising, Protein and Gratitudes+Affirmations)
Week 4: Add the fourth point from each realm (Walking, Personalised Plan and Meditation)
The 12 Week Plan
This would be a more sensible option for most. Just action one Point per week:
Week 1: Conditioning
Week 2: Water
Week 3: Sleep
Week 4: Strength
Week 5: Vegetables
Week 6: Journal
Week 7: Energising
Week 8: Protein
Week 9: Gratitude & Affirmations
Week 10: Walking
Week 11: Personalised Plan
Week 12: Meditation
A Year to Success
Some might find that the best path for long term success is to take it slowly and just add one Point to their life each month. This approach also offers the time to dive deeper into each point, for instance sourcing suppliers to get the best quality food at the best price or experimenting to find ways to get deeper sleep patterns.
The Checklist:
The 12 Points can be tracked on a daily/weekly basis with the excel document I've created (picture below). Ask me to email it to you if you would like a copy.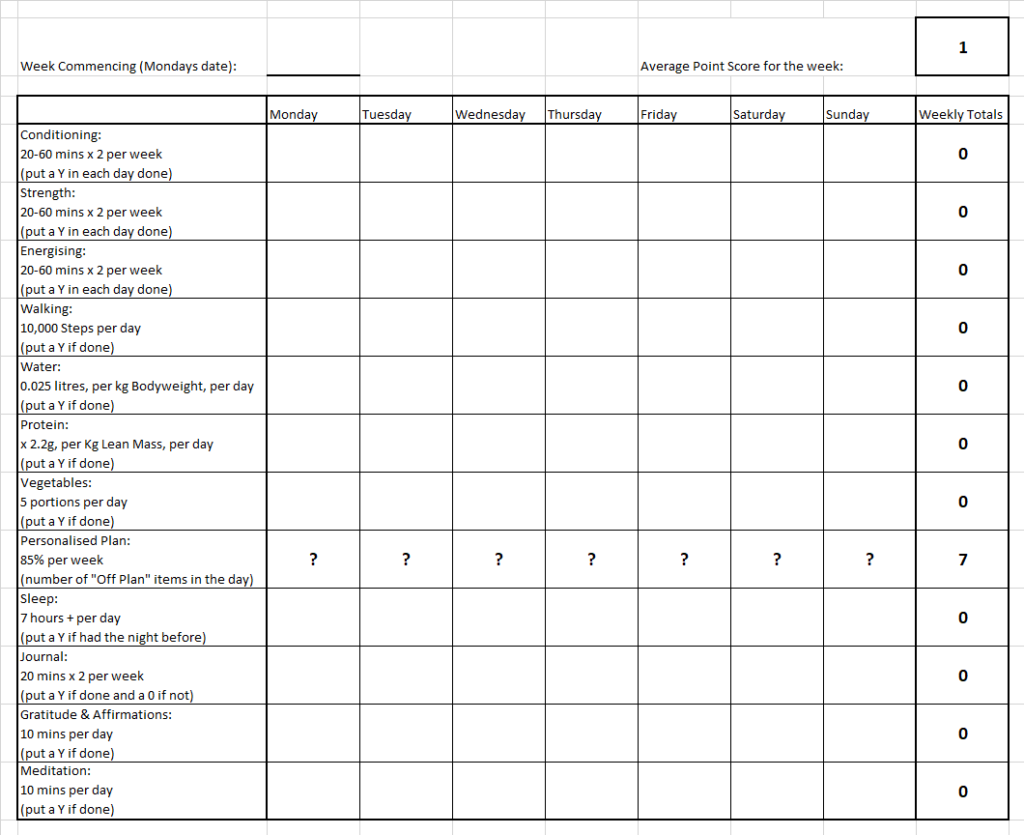 The weekly totals column will add up the Ys for each section.
Personalized Nutrition Plan – Record how many "Off Plan" items consumed each day. Put in a 0 or Y if none, so that you know you've completed that day. The table will add them up and give you a score for the week:
0-3 = 7 Points
4 = 6 Points
5 = 5 Points
6 = 4 Points
7 = 3 Points
8 = 2 Points
9 = 1 Points
10+ = 0 Points
The Average Points Score will then calculate correctly once all figures are in.
What else will you need to be able to work the 12 Point Plan?
For the Walking section – Download a Step Tracker to your phone, or get a FitBit
For the Personalised Nutrition Plan – Download a Calorie Counter App, such as MyFitnessPal
For the Journal – something to write in
What does it look like when you hit all 12 Points?
You might be looking at the list and think "How could I ever fit all that in to my life?". Firstly, as I said already, I wouldn't expect you to try and start it all over night. It could be something you slowly worked towards over a year or longer. Secondly, many of the Movement Points can be combined into the same session.
Here's an example of a week including all the Points:
Every day:
06:00 Wake
06:15 Water x 500ml
06:30 Meditate x 10 mins
06:45 Gratitude & Affirmations x 10 mins
07:00 Breakfast (incl. Protein, 1 Portion Veg and other Starchy Carbs/Fats to meet Personalised Plan)
08:00 Walk x 30 mins
11:00 Water x 500ml
13:00 Lunch (incl. Protein, 2 Portions Veg and other Starchy Carbs/Fats to meet Personalised Plan)
17:00 Walk x 30 mins
17:30 Water x 500ml
18:00 Dinner (incl. Protein, 2 Portions Veg and other Starchy Carbs/Fats to meet Personalised Plan)
20:00 Water x 500ml
22:00 Sleep
(If you have a sedentary job you might need to take an additional 30 min walk at lunchtime.)
Twice a week:
One hour gym session, including
20-40* mins Strength Work
+
20-40* mins Conditioning,
(*blend of Strength>Conditioning depends on what your personal goals and preferences are)
Twice a week:
One hour, including
30 mins Energising Work (Yoga/Active Recovery/Massage etc.)
+
30 mins Journal